El fin de las cosas/ The end of things is a contemporary dance show created by Eva Guerrero with original music of Ainara LeGardon and the external view of Ana Vallés.
Suitable for outside places, site specific and non conventional venues.
It talks bout how we relate to each other, the decisions we make and how these affect the person next to us. It shows that moment when you feel everything is turning on its head but you go on as nothing has ever happened, the exact moment when you lose the beat; it talks about inertia and stubborness, about the lack of control, what is animal in you, what we would like to occur and does not occur, and about what is actually going on.
El fin de las cosas speaks about the boundaries between what we say and what we don't.
KARRIKAN AWARD- RECOMMENDED SHOW BY SAREA (Public Theatre Network of Basque Country)
18th May 2017 Feria Umore Azoka Leioa-Bizkaia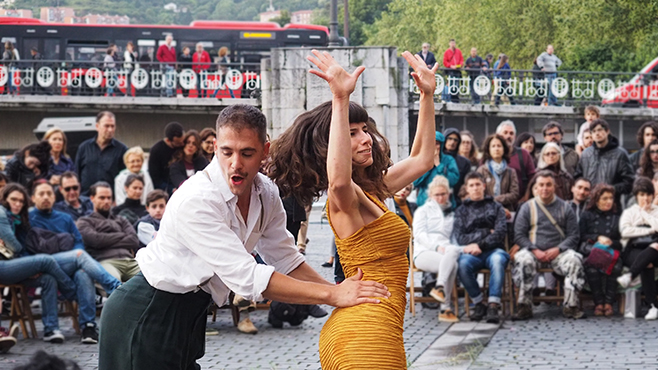 Photo Eva Guerrero. Bilboko Kalealdia

Creaction and direction: Eva Guerrero
Performers: Garazi López de Armentia y Aritz López
Coreography: collective creation
Music: Ainara LeGardon
Music recording: Xabier Erkizia
External view: Ana Vallés
Costumes: Begoña Díaz
Production: Jemima Cano
Special thanks to: Kili Kolo Zirko, Jone Novo, Unai & Hannah for the yellow dress, Maite, Santi, Diego & Malen, Helena, Miriam & Manu, Ana López, Rafa Rodrigo & to Victoria P. Miranda for her choreographic assistance within DanzAlava.

2019  26th July - Azotea de Tabakalera. San Sebastián-Donostia, Gipuzkoa  |  20th July Andoain  |  30th May - Eszena Kalera. Bilbao  |  11th May - Festival 10 sentidos. Valencia  |  4th May - Eszena Kalera. Bilbao  
2018  27-28-29th November - Vortex Festival. Combourg, Francia  |  11th November - Garaion Sorgingunea. Gasteiz, Alava  |  7th October - Jornadas de Teatro de Getxo, Bizkaia  |  14th July - Udagiro. Durango, Bizkaia  |  30th May - ACT Festival. Bilbao, Bizkaia. 
2017  25th November - Festival inTACTO. Vitoria-Gasteiz, Alava  |  24th September - Dantza Hirian. Pasaia, Gipuzkoa  |  16th September - Abian!. Ustaritz  |  15th September - Plaza Nestor Basterretxea. Donostia-San Sebastian  |  9th August - Festival de la muralla. Iruña-Pamplona  |  19th July - Kalezale. Astrabudua  |  8th July - Kalerki. Zarautz  |  29th June - Bilboko Kalealdia. Bilbao  |  11th June - Kalearte. Vitoria-Gasteiz, Alava  |  20th May -  Mai du Théatre. Hendaia  |  18-19th May - Umore Azoka. Leioa, Bizkaia.